Over 60 patients have benefited from Hywel Dda University Health Board's LUMEN project – a ground-breaking service targeting early diagnosis of lung cancer in West Wales.
Funded by Moondance Cancer Initiative, the Lung Cancer Symptom Assessment Line (LUMEN) offers a self-referral telephone service to patients with possible symptoms. The project's aim is to ultimately aid early diagnosis and improve survival rates.
Dr Savita Shanbhag, GP Cancer Lead, said:
"We believe that enabling individuals to call the LUMEN phone line helps us to detect symptoms early and refer patients onwards for early diagnosis. We are thankful to Moondance Cancer Initiative for funding this innovative project."
Available to those aged 40+ and registered with a GP in Carmarthenshire, Ceredigion and Pembrokeshire, the nurse-led phone line provides an alternate access point for support.
The LUMEN nurse, an experienced lung cancer specialist, first advises service users with possible symptoms of the disease, such as chest pain and shortness of breath. Following initial conversations, chest x-rays are arranged for those with symptoms in need of further investigation. Patients then receive ongoing communications following initial contact with the phone line.
Since the project's launch in August 2022, LUMEN has received positive feedback on its "quick and efficient" route to diagnosis.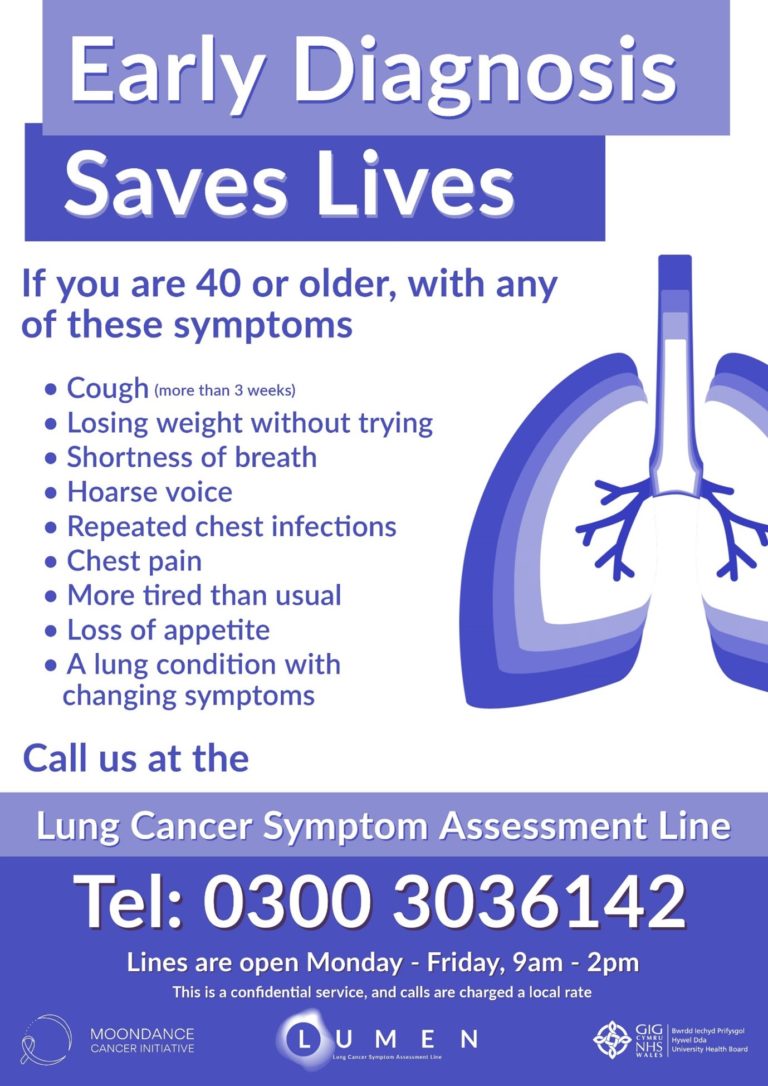 Evaluation of LUMEN's data has shown that:
The most frequently reported initial symptom is a cough (76% of reported initial symptoms), followed by haemoptysis (8%).
19% of users are reported current smokers, 37% are reported ex-smokers, and 44% stated they have never smoked. 11% also reported exposure to asbestos.
If you are 40+ years old, with any of these symptoms:
A cough lasting more than 3 weeks
Losing weight without trying
Shortness of breath
Hoarse voice
Repeated chest infections
Chest pain
More tired than usual
Loss of appetite
A lung condition with changing symptoms
Call the Lung Cancer Symptom Assessment Line on 0300 3036142.
Calls are confidential and lines are open Monday to Friday, 9am – 2pm.